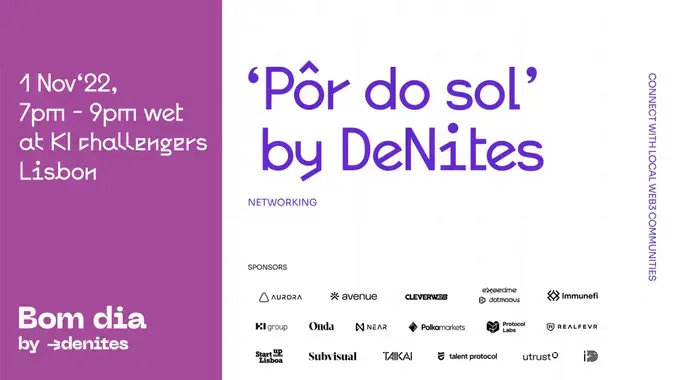 Please register at https://lu.ma/pordosol
Seats for this workshop are very limited, so register as soon as you can.
After two amazing talks where we discussed regulation, the state of the industry and what's coming next, a moment to meet new people is more than appreciated!
​Enjoy the amazing views from the KI Group HQ's rooftop and let the vibes lift you up for another night in Lisbon. If you arrive soon enough, you may still catch the sunset. Food and drinks – on us!
​Btw, if you're wondering, in Portuguese Pôr do Sol means sunset. 🌇
## ​DeNites Agenda | November 1st
​(Before) 5-6 PM, Roundtable: https://lu.ma/thestateofweb3regulation
(Before) 6-7PM, Roundtable: https://lu.ma/theweb3roadmap
​Please help us create the best experience possible: avoid showing up with no tickets, register prior to the event.