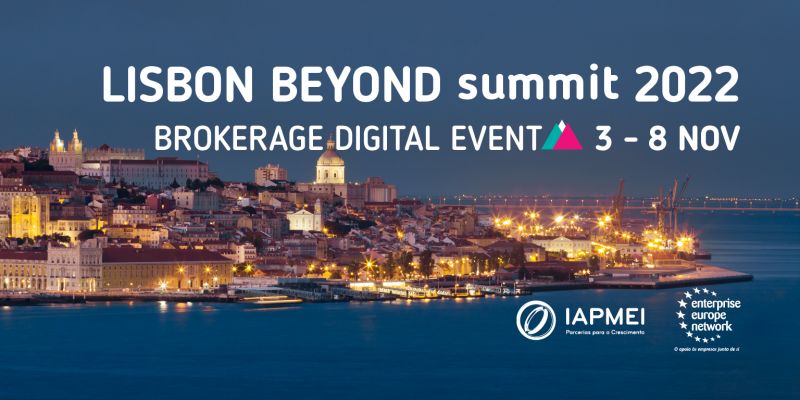 Briefly about Lisbon Beyond Summit 2022
IAPMEI – The Portuguese Agency for Competitiveness and Innovation, Coordinator of the Enterprise Europe Network in Portugal will organize the 5th edition of "Lisbon Beyond Summit", as a parallel brokerage event, thus making the most of the Web Summit participation.
When and where?
3rd November (14:00-18:00) – ONSITE
VENUE: Tivoli Oriente Lisboa/ Sala oriente – Av. D. João II, 27,1990-083 Lisboa
4th, 7-8th November – ONLINE
Who should attend?
Companies, Research Institutes, Universities, Start-ups, investors from FINTECH; DEEP TECHNOLOGIES; DIGITALIZATION; E-HEALTH; INDUSTRY 4.0 and 5.0, CYBER SECURITY, CLIMATE CHANGE, among others.
Why participate?
Bilateral meetings provide an opportunity to establish cross-borders contacts.
The Event will be a unique opportunity to:
Reach foreign markets and its key players;
Access new and innovative technologies;
Find research, business and financing contacts, as well as partners for future EU projects.
How does it work?
Register online from the 27th of September until the 2nd of November for meetings ONSITE;
Register online from the 27th September until the 8th of November for meetings ONLINE.
Costs: Participation in the bilateral meetings is free of charge!

Please access Lisbon Beyond Summit vídeo:
EN version HERE
PT version HERE

Please access other vídeos with potential interest for your companies ( only PT version):