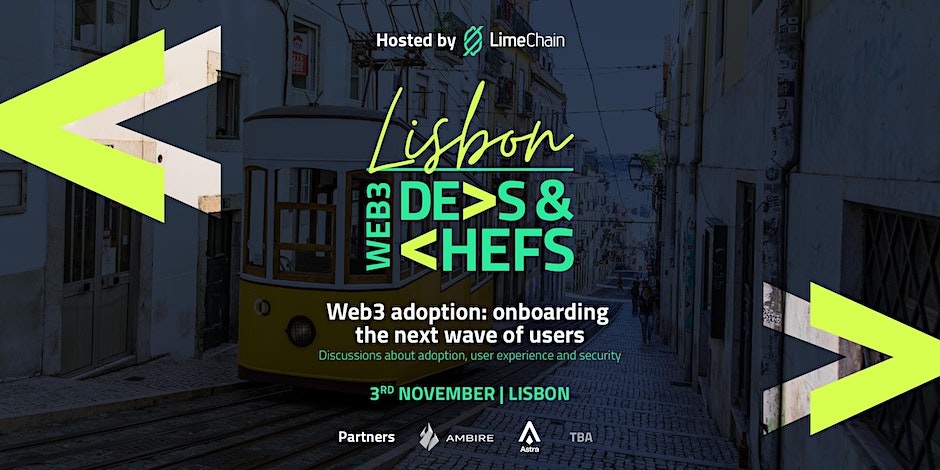 Lisbon Blockchain Month is in full swing and LimeChain is coming to town to hold the newest Web3 meetup in town – the inaugural Web3 Chefs & Devs! The side event kicks off at 18:30 on November 3rd and you can be sure it will be the perfect place to meet passionate Web3 builders and talk to projects focused on onboarding the next billion users in Web3.
The evening kicks off with welcome drinks before moving on to a light 30-min panel and Q&A focused on Web3 adoption, wallets, user experience, and security with experts from Ambire, Astra, and third partner (TBC).
And that's only the starter, as the attendees will be treated with special Web3 burgers prepared on spot, right on the event floor!
With Web3 Chefs & Devs, we seek to combine business and pleasure by treating attendees to both a panel with prominent builders, and a chef-cooked meal and free drinks. Beautiful Lisbon, in the middle of autumn and already abuzz with excitement about the future of the Web, is the perfect place for this, and we hope to see you there!
Keep in mind that while attendance at the Web3 Chefs&Devs event is free of charge, registration is still needed due to the venue's limited capacity. So be sure to save your spot today!
Agenda:
Welcome drinks: 18:30 – 19.00 pm
Panel: 7:30 – 8:30 pm
Dinner and drinks: 8:30 to late

Hosted by:
LimeChain – LimeChain is a leading Blockchain and Web3 solutions company.

Co-hosts:
Ambire – A non-custodial crypto wallet designed with power and ease of use in mind.
Astra – Astra is a decentralized compliance solution for the crypto space.