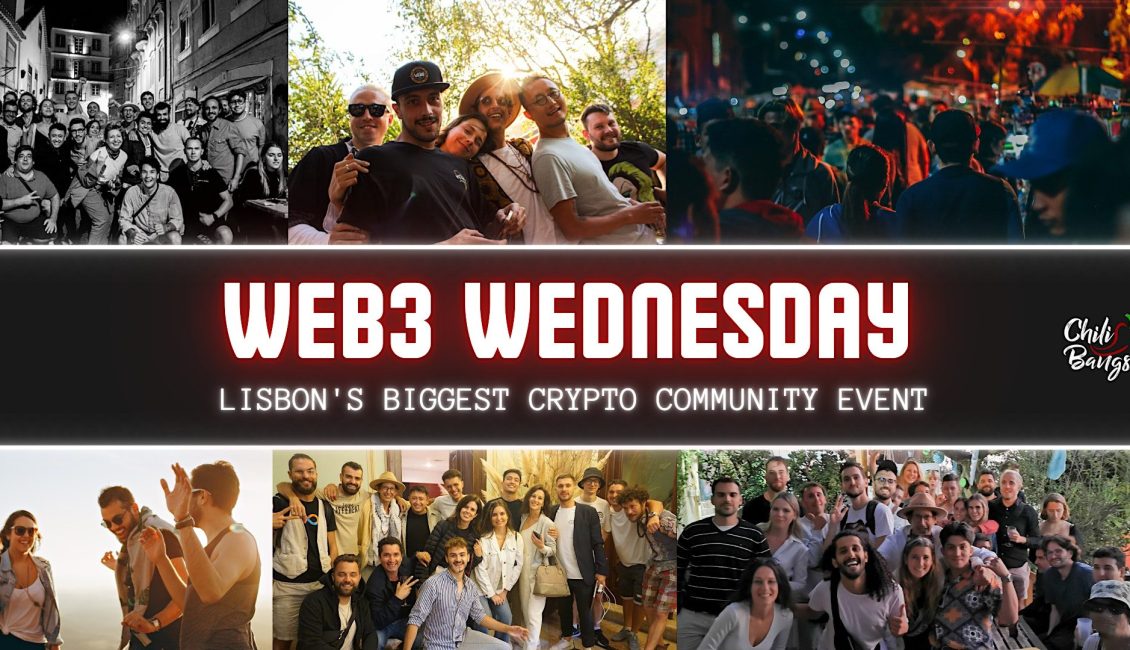 Looking for the hottest Web3 event in Lisbon? Congratulations!! You found it! 😉 🔥
Web3 Wednesday is the largest weekly Web3 meetup in Portugal where you can network and meet with crypto, blockchain, DeFi +NFT professionals and enthusiasts!
Introduce yourself and your projects, participate in educational workshops, listen to talks and enjoy great food and drinks while listening to amazing tunes🎵
It's simply the best way to stay up to date with the latest news in the fast-moving world of Web 3 😉
THE EVENT LOCATION AND PROGRAM GETS UPDATED ON THIS PAGE BEFORE EVERY EVENT SO PLEASE MAKE SURE TO CHECK BEFORE YOU ATTEND 🙂
Come join our amazing community!🌍
⛓ Web3 Wednesdays Telegram | 🌶 Chili Community Telegram
Who are we?
Hi we are ChiliBangs, the largest Web3 event agency in Lisbon! Our community consists of hundreds of Web3 visionaries, degens, developers, investors, artists and NFT, crypto, DeFi and blockchain enthusiasts! We are an open-minded, inclusive and welcoming community with a strong desire to bring decentralized solutions to the world❤ Come join us every Wednesday and meet the people behind the cool PFPs, they might just become your new BFFs!
Event Program for this Wednesday:
🕰 6pm Free Food and Networking sponsored by Algorand
Enjoy some free food and meet and network with Lisbon's most welcoming and amazing Web 3.0 community!
This is the perfect time to introduce yourself, your business or your projects.
Make new friends, collaborate or find business partners and investors for your business.
Anything is possible when you harness the power of the largest Web 3 community in Portugal!
Aaaand of course have some well-deserved drinks to celebrate life in the middle of the week. Because we can!
Who wants to wait until Friday, right? 😉
🕰 7pm Presentations
Jenny Gordienko: Co-founder of CryptoTraffic
She is a Ukrainian influencer and "TOP influence-marketing expert" by Forbes, ex-Nike marketer, TEDx, and ELLE Active Forum speaker. Author of the #1 book in CIS countries called "INFLUENCER MARKETING. How to work with bloggers effectively", co-founder of the top Production Centre for influencers in Ukraine and co-founder of CryptoTraffic.
Christian Masset: Founder + Trainer: Peak Communication
🕰 9:30pm Community Dinner
At around 9:30pm we usually go for a community dinner to a restaurant that is close by. It's optional of course but this is where you will make life-long friends, we highly recommend you to not skip it 🙂
Web3 Wednesday Details:
Where?
The location for this Wednesday is:
THE BLOCK LISBOA
R. Latino Coelho 63
1050-133 Lisboa
When?
⏰ 6pm – 10pm.
Most people arrive quite early so don't be afraid to do the same.
After the event, around 9pm we often go to a nearby restaurant for a late-night degen dinner.
❗ Tickets sell out pretty fast and once the location is at capacity they won't allow more people to enter, so don't miss out, reserve your spot today and arrive early!
See you there! 🙂
Partners 💼
Non-fungible conference I astrocave.academy I Hyperlens.io I Ethernaal.io I Tank-metaverse.com I Tokapi.com I Harmony.one I Artsies Collective I Degen house | Hacken | Amber | Algorand | Raiz Vertical Farms | Bancambios | Pixeltycoons | WOW |